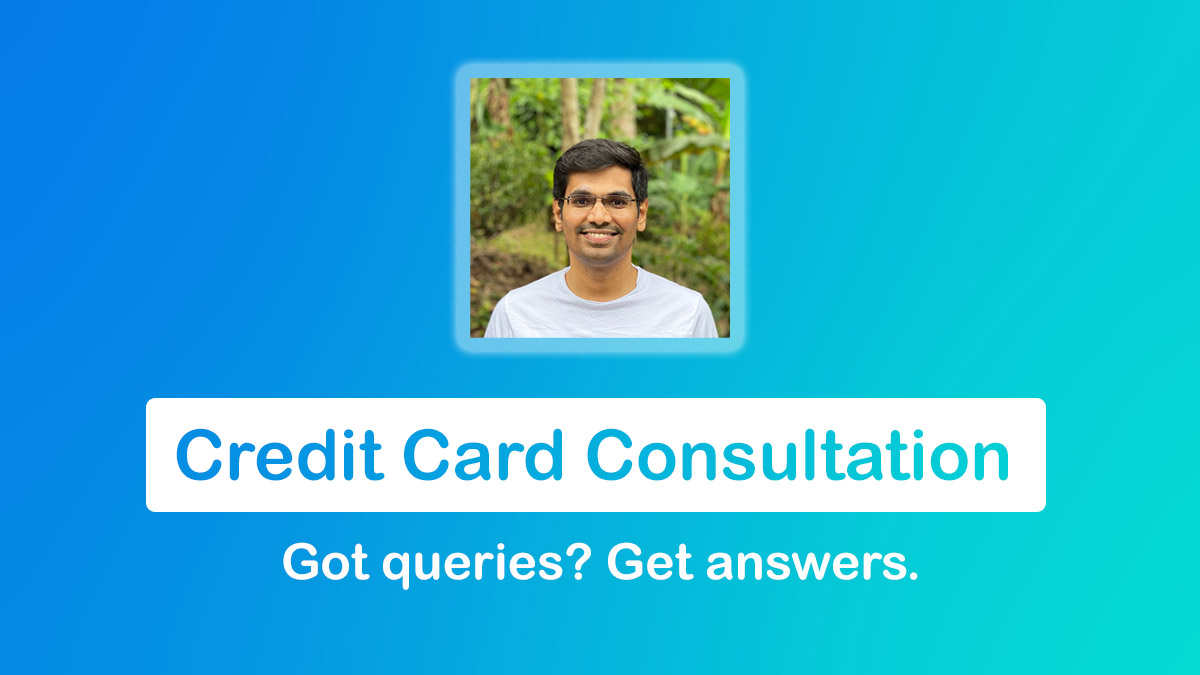 100's of articles, 1000's of comments and still unable to find a satisfying answer to your burning queries about living a life out of credit card rewards? You've landed at the right place.
You're probably not finding your answer either because your profile is different from others or because you don't have sufficient time to go through 100's of articles to find an answer for a question or two.
But worry not, you can now get real-time answers to your queries over call as I'm here to answer you.
That's right, I'm re-opening the one-on-one credit card consultation service after a long time and not just that, it's also pocket friendly now (999 INR).
You can directly talk to me over phone and get all your queries answered in no time.
What do I know?
I've been using credit cards across multiple issuers for over 10 years – with annual fee of cards ranging from Rs.0 (life time free) to Rs.70,000 (expensive metal's)
At any point in time I hold 10+ credit cards in my wallet and I make sure all my spends are giving me sufficient rewards to fund my travels and bit more.
All that gives me sufficient experience to answer the queries that you may have.
That said, almost 95% of what I know is already written here. So what you get with the call is the fastest way to tap that 95% + the remaining sweet 5% as well.
What can you ask?
You can ask me anything that runs on your mind about credit card rewards, airmiles, hotel loyalty programs, etc.
I may not be an expert at knowing everything in the industry, but I'm happy to know little that helps me live a life on credit card rewards with a peace of mind.
You may ask, "peace of mind with 10 credit cards?", well you may definitely ask that query too. 🙂
Speaking of which, I would kindly advice you to limit your queries to 3-5 max with one call. This is to make sure you prioritise your most imp. query so that you get max value out of the call.
What to expect?
A straight & quick solution to your query. Simple as that!
I prefer to have simple strategy to earn rewards and so your query too will be answered in the same line of thought.
However, note that this consultation is "not for planning a complete credit card strategy". Because it would take well over 30 mins at-least and from my previous experience this takes quite a lot of mind-work as I need to mould myself into your profile and think from your shoes with so many variables.
So I would prefer you to limit it to "specific queries" that would increase your savings significantly.
If you're wondering how to plan your credit card strategy, do check out the best credit cards article. That's more than sufficient for most cardholders to maximize their spends.
So ideally, you can expect "simple and easy" answers to let you earn rewards and redeem for free vacation. Speaking of which, you need to know that I'm not a "road warrior" who does 100's of nights in hotels.
So I won't ask you to stay half of your life in hotels to enjoy the perks I do. Expect simple solutions to make your travel better and perhaps free, just as every other card experts are enjoying their life on points.
What's the cost?
Here's a quick look into everything you need to know, along with the cost & inclusions.
You get: one-on-one telephonic consultation with me (one time)
Call Duration: ~15 mins
Booking period: 10th to 16th Oct 2021
Cost: Rs.999
You may ideally expect a callback to the mobile number that you've used while making the payment, within ~72 hrs of booking an appointment.
If you think the call is getting delayed or if you're in an urgency, drop me a line here so that I'll make sure you're on priority.
Note: The ~15 mins time duration is flexible and can even go to 30 mins. But if you think you've a lot of queries, you may also take multiple 15 mins slot.
FAQ's
1. I have read all your articles, will this consultation still be useful to me?
Mostly no. You've already read 95% of the content and you should be an expert by now. But if you think you're missing out on something, I would be happy to answer.
2. I spend 3L a year on cards, can you optimize my returns?
At this spend level, best credit cards article is sufficient to give what you need. The consultation is mostly suited for those who have (or plan to have) annual spends >7 Lakhs.
3. Do you guarantee on getting me a super premium credit card?
The consultation gives you ways and means to get the card you desire – be it Infinia or Centurion. My suggestions have worked for over 90% of whom I've spoken to. However, it's not guaranteed as it totally depends on one's profile.
Got queries? get answers, book your one-on-one credit card consultation now.